Press Release by IITA.
Catholic Relief Services (CRS) and IITA have formalized their ongoing strategic partnership to leverage their complementary strengths better to achieve common goals.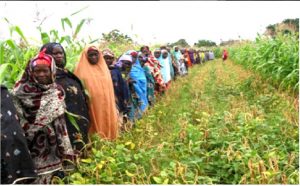 The two organizations, with their shared aim of empowering poor and vulnerable people through solutions that strengthen health, well-being, and livelihoods of families and communities, have been working together for many years and have developed novel ways of engagement.
The two organizations recently signed a memorandum of understanding to formalize this collaboration and continually learn to more effectively work together by bridging the research-to-development divide.
IITA and CRS have developed more effective programming of projects in a range of geographies in Africa and topics that support smallholder farming communities. IITA's Deputy Director General, Partnerships for Delivery, Kenton Dashiell and CRS Vice President Shannon Senefeld signed the MoU on behalf of the two organizations.
Through the MoU, IITA and CRS have identified a range of potential areas for collaboration. These include sustainable landscapes/soil and water management, climate change adaptation and mitigation including drought resistant varieties and supply chain engagement, payment for environmental services, impact evaluation, knowledge management and capacity development, market access and inclusive business models, nutrition, beans and cassava, and dry-season forage options.
According to the MoU "By formalizing this collaboration both IITA and CRS will be well positioned to connect knowledge and insights from a range of disciplines, including the natural sciences, to solve complex challenges facing the rural poor."
"CRS and IITA have a special relationship that bridges research and development to produce major impact for the rural poor in Africa. We continually seek opportunities to collaborate to advance our common agenda, looking for synergy between our complementary capacities."
The partnership between CRS and IITA is based on a hybrid approach between research and development. In this approach, research findings and capacities are aligned to development needs in a pragmatic way; research and development actors collaborate to document and reflect on advances; and, collectively, all participants learn about what works well to provide sustainable rural livelihoods for the rural poor in diverse contexts.
In the MoU, the agreements that will govern the expectations of the two organizations and any donor requirements, financial terms, intellectual property terms, or other organizational requirements applying to a specific collaborative effort, are clearly spelled out.
The post IITA and CRS sign MoU to strengthen strategic partnership to improve rural livelihoods appeared first on IITA. Photo: IITA 
(CC BY-NC-SA 2.0)