Press Release by International Institute of Tropical Agriculture.
The Genebank Platform and 11 CGIAR Germplasm Health Units (GHUs) join hands to raise awareness about germplasm health work across the CGIAR system and national and international partners during Phytosanitary Awareness Week, 23-27 October.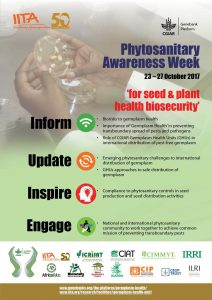 The campaign aims to inform, update, inspire, and engage diverse stakeholders to raise awareness of the critical role that germplasm health units play in ensuring safe exchange of germplasm free of pests and diseases.
CGIAR genebanks located in centers of crop diversity host more than 750,000 accessions of vital food, forage, and tree crop germplasm, including cassava, maize, rice, potato, sweetpotato, groundnut, sorghum, chickpea, bananas, in 0addition to thousands of improved varieties bred for resistance to pests and disease, resilience to climate change, and richness in micronutrients such as pro-vitamin A. The Genebank of the International Institute of Tropical Agriculture (IITA) at its headquarters in Ibadan, Nigeria, represents the single largest collection of invaluable genetic resources of major food staples such as cassava, maize, yam, plantain, cowpea, and other legumes in sub-Saharan Africa.
Crop germplasm is a high value commodity. "Germplasm conserved in the CGIAR genebanks and the improved varieties developed by the breeding programs are regularly exchanged at a high frequency with national and international programs for crop improvement, diversification, food production, commerce, and agricultural development," said Lava Kumar, Head of the Germplasm Health Unit/Virology at IITA, and coordinator of the GHU Component of the Genebank Platform. "Germplasm exchange, however, has inherent risks of introducing exotic pathogens that include viruses, fungi, bacteria, phytoplasma, weeds, insects, and nematodes."
In the CGIAR system, GHUs have been established in centers involved in crop improvement research. These include Africa Rice, Bioversity, CIAT, CIP, CIMMYT, ICARDA, ICRAF, ICRISAT, IITA, ILRI and IRRI .
The GHUs enable the exchange of healthy and pest- and disease-free germplasm between and among centers and partners in various countries in accordance with the requirements of the national plant protection organizations (NPPO) regulations and the FAO International Plant Protection Convention (IPPC).
"GHUs provide vital support to genebanks and breeding programs in production and maintenance of pest and pathogen-free germplasm for conservation and use," Kumar said. "Collectively GHUs, genebanks, and crop improvement programs ensure germplasm distributed from CGIAR centers are healthy and of high quality and, meet the phytosanitary requirements of national and international legislation."
GHUs develop phytosanitary procedures to eliminate pathogens from germplasm and create versatile diagnostics tools for health indexing tests for screening invasive, exotic and endemic pathogens. The Units track changes in global pest and pathogen profiles and develop appropriate controls to tackle new challenges. They work proactively to transfer knowledge and technologies to build phytosanitary capacity among partners programs.
"Germplasm health is one of CGIAR's unknown success stories," Kumar said. "CGIAR has the highest level of international germplasm distribution worldwide. Every year CGIAR centers attend to about 2,000 requests for seed, clonal, and tree germplasm from more than 100 countries. The majority of these requests are from developing countries. Annual international exports from the IITA-Ibadan station range between 100 to 150 events, covering about 40 to 50 countries, majority of them in sub-Saharan Africa," explained Kumar
GHUs under the aegis of national quarantine organizations are responsible for implementing phytosanitary controls to prevent the risk of alien pathogen spread during seed exports and imports. This complicated and expensive task is made easier due to CGIAR's absolute commitment to adhere to high phytosanitary standards. CGIAR's cooperation with national quarantine agencies of the host countries, who understand CGIAR's role in disseminating valuable crop diversity across the countries and continents is essential.
During this awareness campaign, CGIAR centers will showcase tools and technologies they use for germplasm health testing and phytosanitary controls. They will conduct joint activities with national quarantine authorities to increase knowledge on established and emerging threats to global agriculture and prevention methods.
"We hope to convey the key message that GHUs ensure phytosanitary compliance and safeguard the path to food security," Kumar said.
For more information, visit https://www.genebanks.org/the-platform/germplasm-health/ and http://www.iita.org/research/facilities/germplasm-health-unit/ .
The post Role of germplasm health units in ensuring food security highlighted appeared first on IITA. Photo: IITA (CC BY-NC 2.0)