Press Release by IITA.
In 2012, five countries came together and shared their five best cassava varieties. The main criteria was how well they were able to resist the two viral diseases, Cassava mosaic disease (CMD) and Cassava brown streak disease (CBSD), affecting cassava production in Eastern and parts of Southern and Central Africa. These varieties were first cleaned of viruses before they were sent to the countries. Each country received 25 varieties to test for adaptation and performance in their local environments.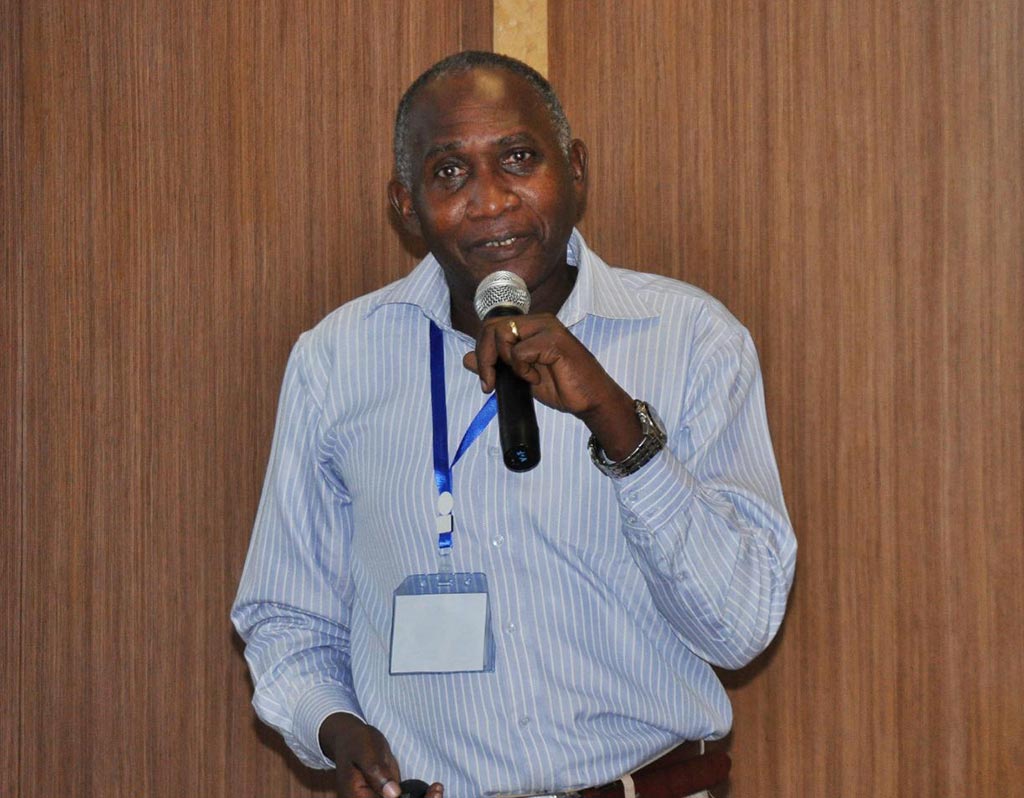 Five years later, each of the five countries has identified their top four to five best varieties that will be integrated into their national breeding programs to generate more breeding populations, and further testing on-farm for acceptability and possible release as new, dual-resistant varieties.
The sharing and testing of the 25 best varieties pooled from the five countries―Kenya, Malawi, Mozambique, Tanzania, and Zambia―was one of the main activities of the New Cassava Varieties and Clean Seeds to combat CMD and CBSD project (5CP in short). The project was funded by the Bill & Melinda Gates Foundation.
The activity aimed at fast tracking efforts to provide farmers with improved high-yielding and dual-resistant cassava varieties, and in turn revive the crop's production and contribute to improving income and food security of the target countries.
The project was led by IITA, working in collaboration with the national cassava breeding programs of the five countries. It started in June 2012 and came to an end on 31 March 2017.
Threat to cassava production
CBSD and CMD together cause production losses worth more than US$1 billion every year and are a threat to food and income security for over 30 million farmers growing cassava in East and Central Africa.
"Africa loses more than a third of its potential cassava harvest to pests and diseases. The most important of these are CBSD and CMD. A severe form of CMD which causes curling of the leaves and drastically reduces yield started spreading in sub-Saharan Africa in the late 1980s and early 1990s," said Edward Kanju, IITA cassava breeder and 5CP Coordinator.
"In the early 2000s, CBSD which causes a dry rot and was previously confined to low coastal areas, started spreading rapidly and nearly all the newly deployed varieties with resistance to CMD were susceptible. Countries had no varieties resistant to this new disease creating the need for the five hard-hit countries to join forces to find a quick solution," Kanju said.
Sharing of virus-free planting material
Each country selected and sent its top five improved varieties and one local check―a local variety that is highly susceptible to the two diseases for comparison―to the Natural Resources Institute (NRI, UK) and to Kenya Plant Health Inspectorate Services (KEPHIS) for virus cleaning. This was to avoid the spread of new strains of viruses to new places in the target countries.
The clean material was then forwarded to the Genetic Technologies International Ltd. (GTIL), a private tissue culture company in Nairobi, Kenya, where it was multiplied and sent to all the five countries as tissue culture plantlets. Researchers first hardened and acclimatized the plantlets before planting them in research fields in areas with high disease pressure. This was to compare their performances against the local susceptible varieties being grown by the farmers and the identified local checks.
A pilot clean cassava seed system
In Tanzania, the project had another objective―to develop a pilot system to deliver clean seeds of improved varieties to farmers from the research system. Under this objective, researchers from IITA, the national agriculture research system, and the Tanzania Official Seed Certification Institute (TOSCI) worked together to develop standards for clean cassava planting material and virus testing methods.
The project also established four sites with very low disease pressure in all the main cassava-growing areas for multiplying high-quality, clean seed areas targeting various agroecologies.
"In these four sites, we have so far produced 4 million cuttings. In the future, we hope to start the process of commercialization so the national root crops research system can sell this top quality planting material of high-yielding, disease-resistant varieties to private companies to multiply and deliver to farmers in large quantities. Ultimately we hope this will have a positive impact on boosting cassava production in Tanzania," said James Legg, Virologist, IITA-Tanzania.
The seed certification guidelines for cassava developed by the project were incorporated into the Seed Act of Tanzania in January 2017.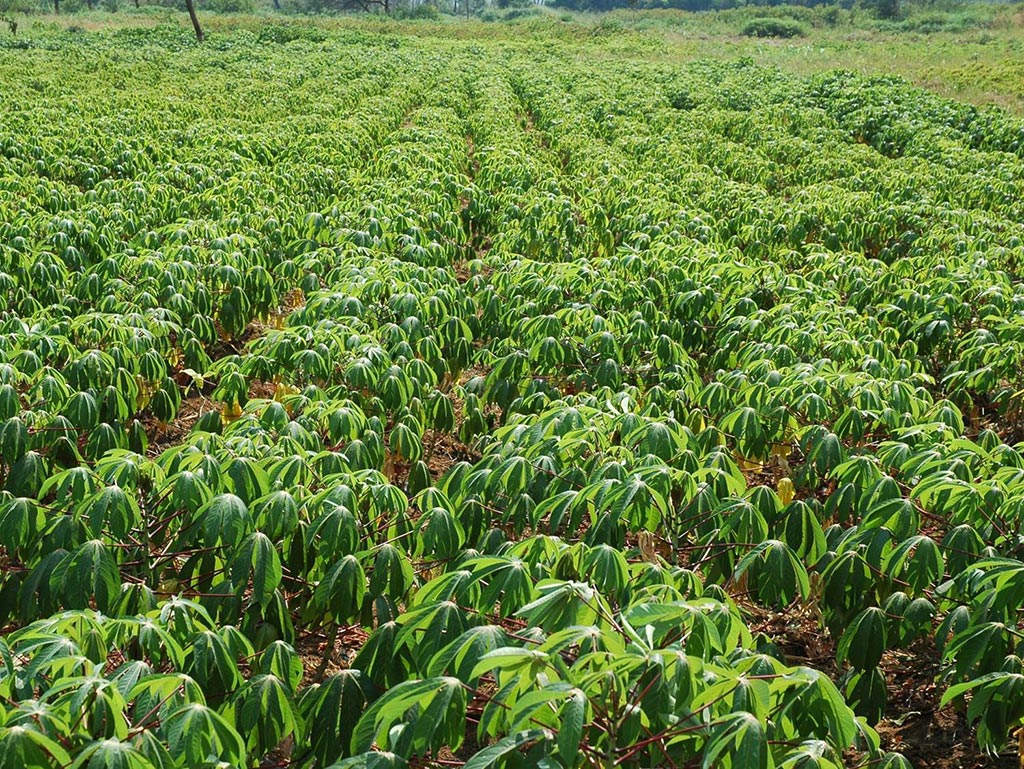 "One of the highlights of this initiative is that, working with various partners in Tanzania, we were able develop guidelines on how to produce the highest quality of cassava planting material. These guidelines were recently enacted into law. We are really excited about this," James Legg enthused.
The project trained more than 50 TOSCI seed inspectors on certification of vegetatively propagated cassava seeds and equipped the institution with essential equipment for testing viruses in cassava planting material.
Project successes
Top four to five of 25 in each country: Each country had already identified its choice of four or five varieties to integrate into their breeding program for further testing. These were selected from field trials in at least five or more sites per country in areas with high disease pressure. There were a total of 33 field sites across the five countries.
Networking and unusual partnerships: The project brought the breeding programs of the five countries to work closely together, sharing their knowledge and skills, and cemented their relationship for future collaboration. The project also brought breeders and virologists to work together in the development of new varieties with dual resistance to CBSD and CMD.
Understanding responses of cassava varieties to the viruses: The project also supported the five countries to carry out degeneration trials of their own five best varieties. This was to understand how they respond to the viruses and identify those that remain healthy for a long time even when infected.
Building capacity for cassava breeding: The project had a strong capacity-building element to support cassava breeding in the five countries. It supported five students in their postgraduate studies―four MScs and one PhD. Numerous short courses were also conducted for the national researchers including handling of tissue culture plantlets, testing for viruses using real-time PCRs, and conducting and analyzing data from multilocation trials, among others.
Next steps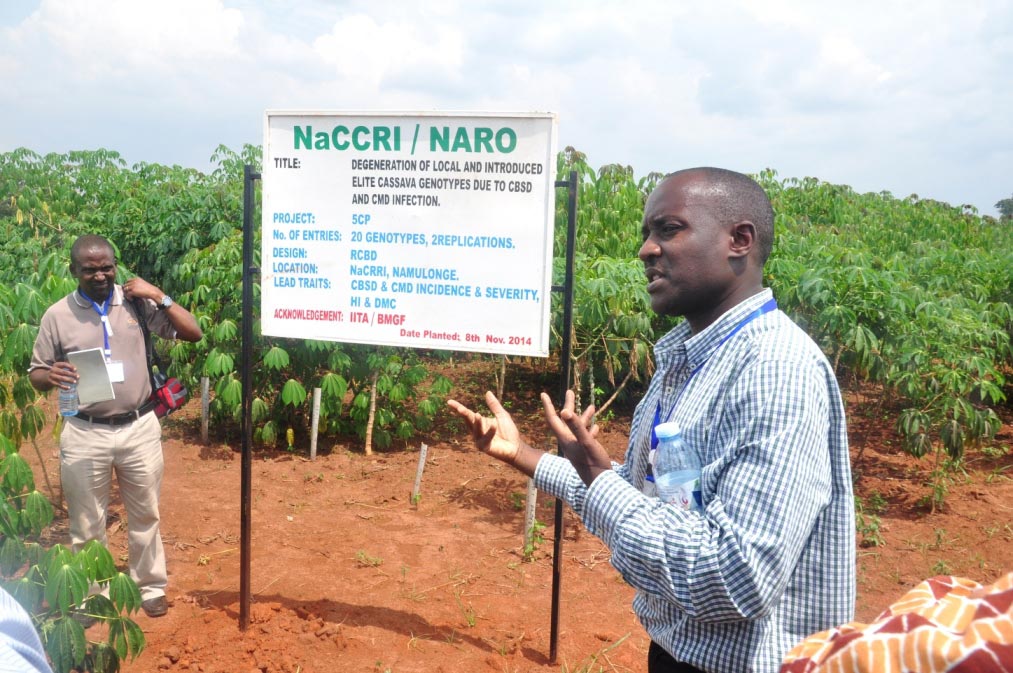 Now that the project has ended, each country will integrate the varieties they have selected into their national breeding programs for further testing and breeding. In Tanzania, the successes and lessons learned in piloting the cassava seed system project have been incorporated into the recently launched 'Building an Economically Sustainable Seed System for Cassava in Tanzania – BEST Cassava project funded by the Gates Foundation. The project is being implemented by Mennonite Economic Development Associates (MEDA) in partnership with the Tanzanian Ministry of Agriculture, Livestock and Fisheries (MALF) and IITA in 11 regions in Tanzania.
5CP voices
On 23 and 24 March, the project team held their last meeting to review the project successes and the way forward. The team was enthusiastic about their achievements and experiences during project implementation.
"The project has generated a lot of output. We have seen many people trained, many varieties identified that we can share with farmers across the five countries, and the certification of cassava seed systems in Tanzania." Arthur Tugume, Chair, 5CP Technical Advisory Committee
"The most important thing about the 5CP project was that we had access to some of the best varieties in the region, we were able to test them, and we have identified four very outstanding ones compared to what we had. These varieties from Tanzania, Mozambique, and Kenya have shown very high resistance to cassava brown streak, which is a major constraint to cassava production in Uganda. Right now, they are under participatory variety selection trials in farmers' fields in nine districts in the country. We will get their final verdict in terms of their preferences and their likes but we are optimistic that they will go through and be taken up by the farmers." Robert Kawuki, National Agricultural Research Organisation (NARO), Uganda
"CMD and CBSD had drastically reduced cassava production in the country in that all varieties were susceptible. This required us to look for other varieties for farmers. 5CP came in handy in that we were able to introduce varieties from the region. We have tested them in several sites across the country and some of the varieties were doing so well that farmers took all the cuttings. This is an indication that the varieties are good and can be used to mitigate the effect of the two diseases." Theresia Munga, Kenya Agriculture and Livestock Research Organization (KALRO)
"CBSD is a major problem in Malawi especially among the shores of Lake Malawi. Farmers cannot reap the benefits of their hard work. Therefore these varieties we have identified will go a long way in solving the viral disease problems in Malawi." Obed Mwenye, Department of Agricultural Research Services, Malawi
"Another important achievement of the 5CP project is delivering high-quality, clean cassava seeds to farmers in Tanzania. We have done this by setting up four clean sites in each of the main cassava growing areas of Tanzania and developed protocols for doing this. Some of the small-scale seed entrepreneurs at village level have received some of these materials to be multiplied and then sold to their colleagues and other cassava producers. So already new improved, disease-resistant varieties from the research systems are finding their way to the farmers and are having a positive impact on cassava production in Tanzania." James Legg, IITA Tanzania
"As we come to the end of this project, the most interesting achievement is that each country was able to receive the 25 elite varieties promised at the beginning of the project, and tested them across different agroecologies in their respective countries. In this meeting, each country has been able to flag at least four varieties that have shown high resistance to both cassava mosaic disease and cassava brown streak disease." Silver Tumwegamire, IITA Tanzania
The post Project brings ray of hope to fight against cassava viruses in Africa appeared first on IITA. Photo: IITA CC BY-NC-SA 2.0