Press release by International Institute of Tropical Agriculture. 
IITA Director General Nteranya Sanginga recently visited the Kenya Agriculture and Livestock Research Organization (KALRO) station at Katumani, Kenya, to assess the progress of the ongoing construction of a plant that would manufacture and supply AflasafeKE01 to smallholder farmers in the country.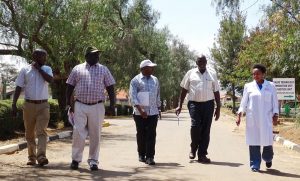 Aflasafe Ke01™ is a revolutionary biocontrol product, which has been shown to consistently reduce aflatoxin in treated food and feed by 80–99% in Kenya. It was developed by IITA and the United States Department of Agriculture-Agriculture Research Services (USDA-ARS) in partnership with KALRO and with the support of other local institutions and development partners.
During the visit, held on 24 August, the DG was accompanied by Lawrence Kaptoge, General Technical Manager BIP/Aflasafe Engineer and Charity Mutegi, the Aflasafe project's East Africa Coordinator, who updated him on the progress made so far and plans for the launch.
The DG was impressed with the quality of work and the progress made thus far. He also pointed out areas that can be improved to make sure that the commercialization efforts run optimally, such as establishing foreseen demand and involving key partners in the commercialization efforts.
The plant is the first of its kind in the world and will be the second Aflasafe production plant in Africa after the one at IITA, Ibadan, Nigeria. Its construction is almost finalized and its launch is scheduled to take place early next year, a date chosen considering the elections in Kenya.
Sanginga also met the KALRO Katumani management and toured the regional mycotoxin research facility where he met the staff and students on training and attachment.
The team also shared plans to expand the mycotoxin laboratory in partnership with KALRO. The laboratory's construction was supported by the World Bank which rehabilitated an existing building at the Katumani center while the equipment was provided by USAID through the Aflatoxin Policy and Program for East Africa (APPEAR) project, USDA-ARS, and the World Bank. The Lab is used to conduct mycotoxin research and monitoring and surveillance of aflatoxin contamination in the region and for building capacity.
The post IITA DG reviews progress of construction of Aflasafe manufacturing plant in Kenya appeared first on IITA.
Photo by: IITA (CC BY-NC 2.0)