Press release by International Institute of Tropical Agriculture.
Impressed with the progress made in the revitalization of Onne Station in Rivers State, Director General Nteranya Sanginga said: "The station is ready to outscale agricultural research and serve as an incubation center for agribusiness in the South-South and South-East zones of Nigeria in addition to research activities. There has been tremendous improvement from the last time I visited. I am delighted to see a group of determined people that will achieve this goal and it is good that you are primed to become the pride of IITA."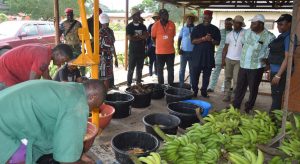 Commending the Plantain and Banana Improvement Program under the supervision of Josephine Agogbua (Postdoc Plantain/Banana Breeder), Sanginga said, "…I have been hearing of a Banana ripening room but don't know what it does, but today I learned how to ripen banana and extract seeds."
In a dialogue with staff members, IITA Onne Farm Manager Francis Adunoye pleaded with the DG to help secure the environment and set up basic amenities for the station, where scientists can work with zero disruption for effective research delivery. He also mentioned that the funding cut made by the US Government has alarmed staff and asked what strategy the Institute had to cushion the effects. Other staff members appealed for an increment in salary due to the high cost of standard of living in the State.
In response, the DG stated that IITA Onne has potential for business opportunities such as a banana/plantain seed system, postharvest value addition, and banana juice and plantain wine production, hence he said that "no IITA station/hub will be shut down." He, however, encouraged staff to always do their best for maximum performance.
The post DG Sanginga: IITA Onne is set to incubate agribusiness platforms appeared first on IITA. Photo: ADB  (CC BY-NC-ND 2.0)